People are asking what is the van life. Until the last couple years, I could only guess based on what it sounds like. But there is a lot more. There is a parallel movement for people that want to live on the road, that want the freedom of parking just about anywhere (including Walmart parking lots) and not have to pay a lot fee. These people are living the Van Life.
The Van Life is for people that purchase a van, have it custom outfitted like a camping trailer or RV, with the intention of living in it for a period of time. These vans are sometimes very basic with just a bed, others are completely decked out with every camping amenity you can think of.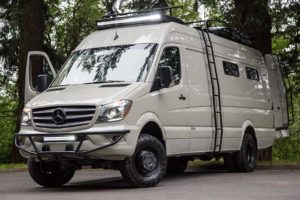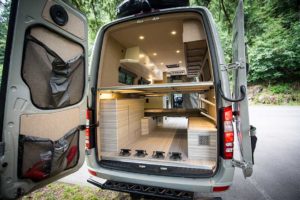 There is no stopping this movement as sales are increasing annually for many van conversion companies. The interiors are absolutely stunning with stainless steel showers, efficient mini-refrigerators, sinks, toilets and audio/video systems that make you want to stay in the van.
Camper Van Cost
The cost on your average campervan can really vary. There are so many sizes and features, its hard to generalize a price but I will try to simplify it. First, there are a wide variety of "conversions" if you have your own van. A "Pop Top" conversion (like the old VW vans) can add nearly 8 feet of head room to your van with the tent portion above the van, in addition to the typical camper essentials like a sink and bed. This can cost $25,000 to over $40,000. One of the benefits of this type is that you can add it to a minivan and does not add a ton of weight. Next, we have full-blown conversions if you have your own van. They start at around $8000 for simple kits that include a bed, small fresh and black tanks of 5 gallons each, pump faucet, small sink and more. More exotic kits can be as much a $50,000 if you have expensive taste and want the best of everything. You can save money if you purchase an empty van, buy the kit and install it yourself, or have a professional install it. Either way, you will likely save over purchasing it already converted into a camper van.
If you are wanting to buy a used campervan, they are usually in the low $30k range for a basic Ram, and can reach over $100k very easily for a Mercedes. Again, the options will determine the price in addition to the upgrades and condition of the van itself. Mileage and engine type are also pricing factors. A diesel engine will be more costly, but will also be more MPG efficient, and will move the heavy van will a little more power than a gas model.
What is a camper van used for? 
There is not a single-use for camper vans as the accessories and technology continues to advance for these vehicles. First, they are used as a camper by themselves. Instead of purchasing a trailer, motorhome or other camping vehicle, they are an ideal option to jump in and take off for a weekend. Some people even use them as a daily driver so there is not an extra expense to purchase a camper van.
Second, they are being used for nomads. These are people that live in their camper van full time, and do not have a home. They travel constantly and will park their van anywhere they can, as long as it is free! It is becoming more common for Walmart parking lots to have camper vans in addition to other traveling vehicles. You can also stay the night at rest stops on the sides of our nations highways. But, of course, a camper van can also stay at the thousands of camp sites and national parks in the US. One of the benefits for having a mobile living quarters is that you don't have to disconnect a trailer. When you want to leave your campsite for a few hours and head into town, just disconnect the utilities, and leave.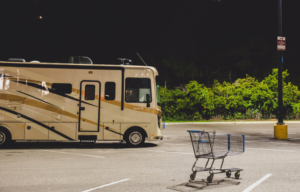 Another use that is starting to become more common is for traveling businessmen. I know someone that is a jewelry wholesaler and is on the road for 20+ days per month. He lives in his campervan the entire time, but stays at RV parks, rest stops and even parking lots as needed. It is very convenient since he is able to pull off the road and sleep whenever he is tired, in a comfortable bed.
What is inside a camper van?
This is a fun topic to discuss because there are so many creative interior finishes, the bar continues to get higher and higher. There are a good number of van conversion companies in the US that can install just about anything in your van…just as long as you will pay for it. On the high-end conversions, vans are being outfitted with RV sized sinks, showers, toilets and beds. For those that expect to cook in their camper van, there are options for small stoves with single and double burners. The electronic packages are endless with surround sound, multiple TV's and Netflix on demand.  Most vans have large beds that are most commonly located in the back of the van. Some have a "U" shaped couch with a table in the middle. The table can be removed and cushions fill in the rest of the area to make a large 6'8″ x 5′ bed, so basically a queen. For those on a budget, there is no shower or toilet, but a small sink, cabinets, and a large bed in the back of the van. Because of this, the van does not need a large waste tank, nor does it need propane or a method to heat a shower or provide fuel for a stove.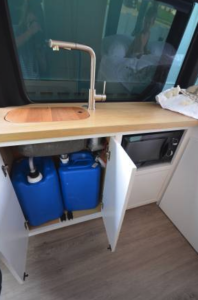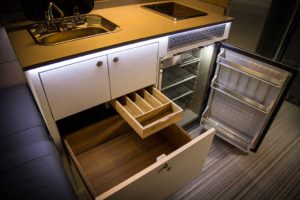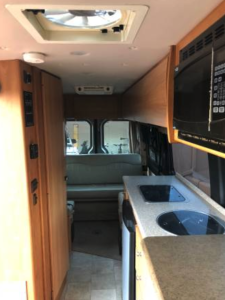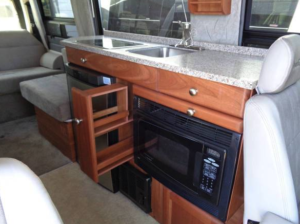 Speaking of fuel, if the van is not outfitted with propane, there is also not likely an effective heating source during the cold winter months. If you plan on traveling in the colder regions of the US/Canada, propane heat is by far the most cost effective that you can get. Solar heaters may be helpful, but only when the sun is shining. I'll elaborate more on heating and cooling in the next paragraph.
There are many option in regards to how the interior of a camper van is finished. Some are well insulated on the walls, ceiling and even floor, while some are only partially insulated. Most are wood framed and some have ship-lapped walls while others are vinyl. If your van is wood framed, you can pretty much do what you want to the inside, as long as you have the space, and the utilities to support it.
What kind of toilets are inside a campervan? The two most common toilets found in these small campers are a RV toilet that flushes the waste to a small, 5-10 gallon black tank, or a cassette toilet. I am a fan of the cassette toilets as they seem to be very simple, easy to maintain and less gross in regards to disposing of the waste. The cassettes are usually 4.5 to 5.1 gallons, so can be 30-40 lbs if completely full. They are usually emptied out in a toilet at a rest stop, home or other toilets while travelers on the road.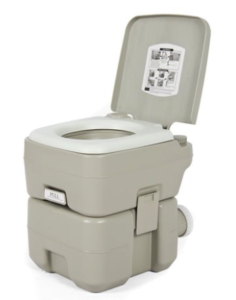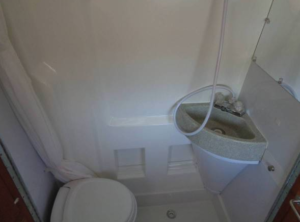 Heating and Air Conditioning
Air conditioning for a camper van is very important because vans are made of metal, and can of course get really hot. Even if it is only 80 degrees outside, it can get much hotter in your camper. If the van is small, you may need to rely on the AC from the dash. This means that your van will need to be running idle a lot to keep the AC powered. Medium to larger vans will need a separate air conditioner, most commonly a small unit installed in the roof. These units are not very efficient but can cool a 70-120 square feet effectively. They stick out a little less than 10″ on the top of the van, and a few inches inside. It is ideal if the AC unit is slightly oversized in the event that you camp in higher temperatures or have several travelers that can add to the heat. For medium to large vans, a 8000 to 14000 btu air conditioning unit should be sufficient to keep the area cool and warm when needed. The biggest challenge that van owners have is how these AC units will be powered, as they require a large amount of electricity. High end vans have solar on the roof, a good-sized battery bank to make sure there is a sufficient amount of amperage to keep the AC and heater working, or available at all times. If you are building your own camper van, consult with an off-grid specialist to ensure that you will have enough juice to keep your van at an ideal temperature.
Camper van vs. trailer… vs. tiny home
You may be wondering why we are even comparing the difference between a camper van and a tiny home. Well, those that are enjoying the van life, have sometimes considered a tiny home that they can tow around. Here are a few comparison items that can help you to best understand these two options…
Tiny homes are often larger due to the length (up to 32′) and the height (up to 14′)
Tiny homes have larger capacity tanks for fresh water and waste.
Tiny homes can usually sleep more people comfortably
Tiny homes can be disconnected from the tow vehicle, and allow you to run errands without taking the kitchen sink with you
Tiny homes average less than $100,000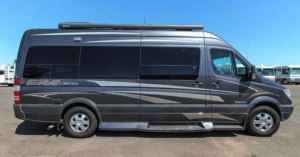 Camper vans are more portable, able to go in more places
Camper vans don't require you to tow anything
Camper vans can be parked in more places discretely
Camper vans can make long distance traveling much easier
As you can see, although they have some similarities, tiny homes and campervans have different purposes. If you are going to be more stationary and need more of a house, then a tiny home may be a better fit. However, if you want more options of where you can go, and how often, a campervan may be best for you. Tugging around a tiny house for thousands of miles might get old for most of us.
The Van Life Movement
The van life is a large movement, that is in just about every developed country. People are literally selling most of the possessions, including their homes, buying a camper van and living in it as they travel the country. Most of these nomads seem to be older or younger couples, but occasionally we will hear of a family living in a van as they travel about. Since the conveniences of a modern day home are now found, albeit smaller versions, in camper vans of almost all sizes. Some are outfitted with generators and small solar systems that can make it realistic to live off-grid for long periods of time.
Selling everything you have an living in a van is not for everyone, but has increased in popularity of the last few years. However, not all van buyers live in them, but have houses also, and use them to take extended vacations since the overhead is relatively low. Comparing this of course to the cost of a hotel and other travel expenses which can add up fast.
Ram Sprinter Camper Van
Mercedes Sprinter Camper Van
VW Camper Van