How much does a tiny home cost
There are so many different types of tiny homes on the market, different construction methods, different options and features butt they all influence the cost of a tiny house. Regardless of the type of home you build or buy, there is a general pricing method that I like to go by.
Tiny homes on wheels average $40,000 – $80,000. The size of the home and finishes will affect the cost of the home. If the home has custom craftsmanship, off-grid system or costly appliances, then you can expect to pay more. A general rule of thumb for these homes are $150-$250 per square foot. 
For site-built tiny custom homes, the range is more in the $60,000 to $120,000. Other variables include lot prep, utilities, pad/concrete and other dirt work. This range does not include septic tank, power pole, water meter or tank, etc. A general rule of thumb for a home that is 300-600 square feet is $150 to $250 per square foot. 
Tiny Home on a Budget
If you are on a budget, there are a few things that you can do in order to not get caught with an overly expensive tiny home. I recommend the following in order to lower your cost per square foot.
Exterior siding: You can do simple concrete board or regular exterior hardboard which will save you a bunch. This is MUCH less than the fancy log siding or high-end hardboards that are tongue and groove. The simple composite 4×8 sheets are low maintenance, easy to paint and durable.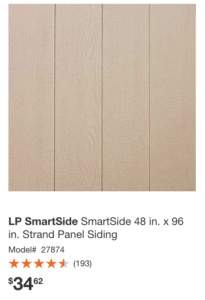 Flooring: A very easy way to spend lots of money! You don't need to install high-end stone or real wood flooring in order to have a nice looking home. Think outside the box and consider laminate wood flooring. Not only have I installed this in my home, but most people think it is real wood and compliment the look and durability. Most of the nicer laminate flooring is tongue and groove, and costs between $1.25-$2.50 per square foot, plus installation. My floors cost about $1.80 per square foot for the product, and another $2.50 for installation. Not a bad price for really good flooring that can take a beating.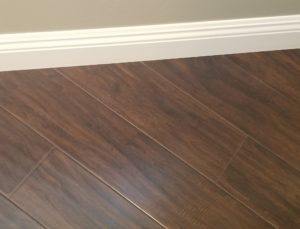 Interior walls and ceilings: It is very easy to get carried away by spending a small fortune on your walls and ceilings. Most tiny homes are doing shiplapping which looks great, but it doesn't need to be expensive. Options include weathered, reclaimed and high-end hardwoods that come in straight cut or tongue and groove. Some of these nicer woods can be $6 to $12 per square foot installed! If you have a 300 square foot home, it can cost $6000 to $8000 to cover your walls and ceilings. Yes, it will make your home look amazing, but if your on a budget, that is a huge expense. Try pricing out regular pine shiplap products. I've seen them as low as $2.50 per square foot, plus installation. Also, some of the home stores sell reclaimed wood in a package of 10 to 12 square feet for only $3 per square foot. You can even do one color and pattern on the ceiling, and another on the walls to give variety, even on a budget.
Windows: As I mentioned in another post, windows can be quite expensive. A smaller tiny home of less than 250 square feet can still have a window cost of $3000 to $4000 if the window sizes are custom. Additionally, if they are windows that open, they will be even more expensive pushing up the total above $4000 if you have a larger quantity of windows. If you can get by with a few windows that open, and utilize standard home size windows, you will be able to save a bunch on your final bill.
Kitchen on a budget: This is another room that can get carried away really fast and be one of your largest expenses, even in a tiny home. First, I recommend not going with granite, but butcher-block countertops. They are a fraction of the price and look really classy, especially if you have shiplapping on your walls and throughout. For example, a 6′ x 2′ x 2″ butcher-block piece costs about $200 which comes out to about $17 per foot, not including installation. This is about 1/3 of granite, and they look great. Next is cabinets, these are hard to save on sometimes, especially if they need to be custom. I just recommend getting 3 quotes to make sure you are getting a fair price. Fixtures do not need to be high-end, especially if you will be using a full sized sink. A good quality stainless steel sink and faucet will be just fine and can come in a variety of colors. Back splash tile is necessary, but can be simple white subway tile or anything of the same size, and be very affordable. Marble, granite or quartz will cost more so be open to regular ceramic or porcelain tiles. Appliances in the kitchen will be costly, even on a budget. I highly recommend timing your appliance purchases around "sales" at the home stores, or appliance stores. This alone will save you 10-30% by itself. Also, the fancy tech features that are found on the new refrigerators are expensive, so keep looking for a nice stainless frig that has a high efficiency rating.
Custom work: This is of course a fast way to blow away your budget. Paying a craftsman to make custom trim work, stained glass, millwork, high-end cabinetry and hidden storage boxes can add up quickly. Be careful in becoming overzealous in your custom metal and woodwork. Keep it simple and get fixed pricing up front on all custom work. Trim work can also be costly and is not necessary in every room. With shiplapped walls and ceilings, adding extra trim is not always necessary. This includes baseboards and window trim. Simple pine trim looks amazing and can work for both of these and at a fraction of the price.
Bathrooms on a budget: There is not a one sized fits all approach to bathrooms in tiny homes. Some are putting thousands in expensive materials, fixtures and finishes in a room that is less than 50 square feet. Easy ways to be conservative in the bathroom includes corrugated steel shower surround with tile flooring. A one piece sink/cabinet vanity can cost less than $300, but offer storage, a nice countertop and a reasonably sized sink and fixture. It is also very easy to install and looks great in any tiny house.
Prices on Tiny Houses
The prices on tiny houses is very broad and there are so many factors, and thats why it's important to identify what your long term housing needs are first…before you buy. If you are building your own tiny house, do a cost analysis or breakdown (I always do one on a spreadsheet) so you can see what the cost is of everything. Look online for prices on all items that can be purchased at a home store and shop for those items that will look the best, but can be purchased at a low cost. If you are buying a tiny home from a private party or builder, do your homework and see what they are selling for in your area. Speak to real estate agents or anyone else that may have knowledge of values. Create your own "comp" list of tiny homes that have sold in your city. Make sure you are comparing homes within the same square footage and with similar features. Never offer more than what the current market values a home at. I hope you are able to get the right tiny home at the right price.