Amazing interior finishes that make us want to buy a tiny house!
There are countless variations of tiny home interiors and the sky is the limit. In my research to better understand the tiny home industry, I've spent some time to see what builders are doing the interiors. There have been some unbelievable interiors that are obviously completed by a craftsman. Im talking about stained glass, granite, custom cabinets, stained and natural woods, arched ceilings, country windows, custom curtains, stunning bathrooms, corrugated steel shower surrounds and much more. The challenge is the more custom work…the higher the price. So let's explore some amazing tiny home interiors!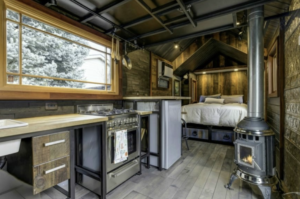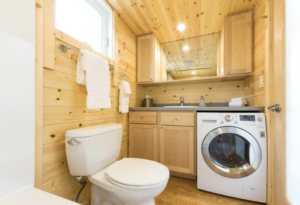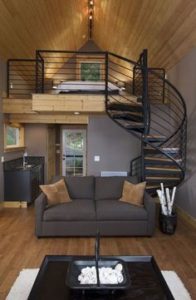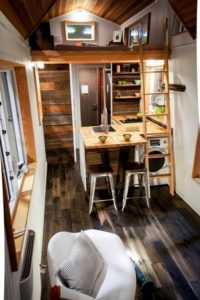 These five pictures have completely different styles, but yet all have personality that ads to the value of the tiny home.
The first picture to the left uses real wood slats, an old wood burning fireplace and butcher block countertops. Im not a fan of dark wood, but I do like the mix of reclaimed wood and the unique metal ceiling and roof.
The second picture shows a bathroom with unstained pine on the walls and ceiling. They have a washer/dryer in white, a full sized toilet, and a small sink with lots of cabinet space for a tiny home. I like the recessed lights and large window.
The third picture uses a mix of light and dark woods, but with the walls all white. My favorite part about this interior is the kitchen and the amount of counterpace there is. Also important to note of the placement of the windows and the dark ceiling. Great mix!
The fourth picture is not a typical 8 or 10′ wide tiny house, but still is a very small home. I really like the staircase and railing, and the really high wood ceiling. The flooring seems to be real wood, or a nice vinyl that matches the decor well. This home represents the size of home I prefer.
The fifth picture uses some amazing shiplap on the wall in the back, solid white walls on the side and more wood on the floor and ceiling. The kitchen bar is perfect for a tiny home and the ladder to the loft uses the space practically. The windows are large and add to the beauty of this homes interior.
As you can tell, there is a common theme with most tiny homes…the use of wood! There is seldom a large, site-built home that uses this much wood in any room, except for cabins and summer homes. Occasionally I've seen stone veneer inside but in small amounts in the kitchen, or shower surround. The color in the wood makes these tiny homes classy and in some cases very high-end. It offers a big home effect because there is so much variance in such a small space. Instead of being built with boring, single color drywall interiors, I think most tiny homes are more attractive and offer a better use of space that larger homes in general. They are cozy and at the same time offer a creative use of space that we are not used to seeing in the traditional site built home.
LED Lighting
The use of LED lights in a tiny home just makes sense. Yes, you pay more for them. but they use less energy…by far. Depending on the color of LED lights, it can  illuminate the little home with a "white" brightness that is hard to achieve with normal incandescent light bulbs. If you are building an off-grid tiny home, LED lights are a must, and you dont need very many of them.
Flooring
Like other finishes in a tiny house, there is an endless list of flooring that can be installed. If it is a tiny site built home, I love stained concrete. It can be stained to just about any color, and any pattern that you like. This allows you to add a rug or anything else on the ground as needed. Stained concrete costs much less than adding real wood or tile and does'nt take much time to complete. But if you are not a stained concrete type of person, consider laminate flooring. The new laminates look amazing and it's hard to tell that they are not real wood. Of course the top layer is laminate, but the rest of the slats are made from wood. I've noticed on my laminate floors that they take a beating really well even when someone drops a can or bottle.
Cabinets
Most tiny home cabinets need to be custom fit. It is really hard to get Home Depot cabinets to match the needs of an average kitchen in a small home like these. Fortunately you wont need a large amount of cabinets, but enough to provide sufficient base your countertops, enough storage for the necessities, and the right color and style to make the kitchen stand out.
Countertops
We are seeing more and more butcher block countertops in tiny houses. it is very affordable and makes sense. If there is alot of wood in a house, butcher-block does not seem to contradict and adds a unique look and feel to the kitchen. I would just recommend having it sealed prior to use in order to avoid it staining. No one wants tomato juice stains on their countertops!
Lofts
Over the past few years, we have seen the most amazing use of space with lofts. You can find them just about anywhere…in the kitchen, above the bathroom or even above another bed.  For tiny homes with higher roofs, it just makes sense to add a lot for additional room. A loft allows you to double or triple your sleeping capabilities or add a ton of space for storage. My favorite is adding a loft on both sides of the house, utilizing the high pitched roof while keeping the middle section open. Loft sizes vary from 60-80 square feet, to over 200 depending on the size of the home. It is the only way that a small family can have sufficient sleeping and storage although the house is less than 300 square feet.
Tiny Home Appliances
There doesn't seem to be any limits as to what type of appliances are showing up in tiny houses.You can find RV RV sized appliances, gas or electric, and you can also find a standard sized appliances. Most tiny houses in the past couple years are being built with apartment size appliances. Refrigerators, for example, that are about 10 cubit feet. Stoves and ovens that are two burners instead of four, microwaves that are less than one cubit foot. But even more recently we are finding a lot of washer and dryer combos that are installed in the kitchen and bathroom. Obviously, in a large size built home, this would've offend just about anyone. But in these tiny homes, it makes perfect sense and saves a lot of room.Just because these houses are a lot smaller, that does not mean you have to go without the comforts of a large home.
If you are expecting to live off-grid in your small house, then there is realistically one type of refrigerator that will work. This is an RV refrigerator that can work on propane, or electricity or both. When we would camp with our motorhome, we had this type of frig and it was very low maintenance, as long as we had a sufficient amount of propane. We would occasionally use our generator, but propane seemed to go much further. Most refrigerators will have an "automatic" setting which will switch to propane or electric by itself. If you are going to be connected to the grid, then an all electric refrigerator will be fine. You just need to choose the size that will fit within your kitchens layout.
In order to save money, and not add additional electrical draw, tiny homes are often outfitted with tankless propane water heaters. These are expensive but are very practical if you are on a budget. These hot water heaters will allow a longer production of hot water on demand. If you were to install an electric water heater, then your hot water would be limited to just a few minutes. This doesn't work if more than one person needs to shower. Electric water heaters are also energy hogs and require a lot of electricity, which is only ideal if you are permanently connected to the grid. Propane tankless water heaters are the way to go and worth the investment.
Speaking of propane, this is a very important topic since it is a necessity for most off-grid, and some grid tied applications. For off-grid living, consider the 100 lb tanks, and in colder climates, you may need 2 of them. Smaller tanks don't vaporize and release the gas at a fast enough pace to be used as needed in the house. There is nothing more miserable than freezing in your home even though your heater is running at full capacity.
The sky is the limit in regards to what you can do to the interior of your new tiny house. Just keep in mind that you the more custom the work is, and the more detail that goes into it, the more it will cost. If you are on a budget, I recommend laminate flooring, pine walls and ceiling, LED lights and butcher-block cabinets. Your home will still look amazing but without that high-end price.