Tiny Homes on Wheels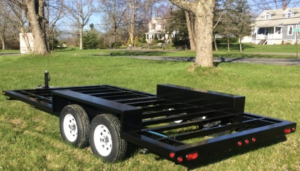 Tiny homes on wheels have received a lot of attention in the past couple of years. It is surprising how many people completely abandon their lifestyle, sell most of their personal belongings, put their large home on the market and purchase a tiny house. It's easy to think they are a little crazy, but when you hear their stories, it starts to make sense. Not only are single people and young couples buying a tiny home on wheels, but even families with kids. These homes that are transportable, may be the same size as many "site built" tiny houses (permanent foundation), but are different in many ways.
As the name suggests, tiny homes on wheels are portable homes, which are homes that are built on a trailer frame. They can be transported to just about anywhere as long as the pulling vehicle is able to handle the weight. Thesetransportable homes are designed to offer a simple solution when connecting utilities. Tiny homes on wheels differ from an RV in many ways.  They  can be custom built with a single or double story, with custom interiors, custom floorplans, custom size and a wide variety of amazing custom features that are not available on an RV.
How are tiny homes on wheels made?
Tiny homes on wheels are made on a very specific type of trailer frame that is able to hold the weight of the home with full appliances, occupants and storage items. The axles are heavy duty, and the number of axles will be determined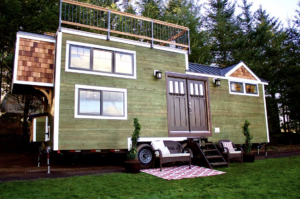 on the size and weight of the home.  The wheels and tires are also heavy duty to ensure safe transport, even across the country.  The construction of these homes begins with the custom plans to match the needs for the occupants. Once these plans are approved, construction begins with the trailer frame. The first crew is usually framers that create the "wood skeleton" of the home. In many cases, this consists of 2×4's or 2×6 walls, 2×8 or 2×10 floor joists that are bolted to the frame. Next you have the roof, utilities, doors, plumbing and electrical trades. The next step to construction is usually insulation which includes the walls, ceiling and even floor. Then cabinets and showers are usually installed next, along with toilets, sinks, stove and anything else that needs to be directly connected to the framing. Then you have finishes like the flooring, ceiling and walls, which are often a wood product. Final stages of construction include electrical and plumbing trim, paint, hardware, appliances and more. Final utility needs are installed such as an electrical panel with breakers and any final connections for sewer and water. The final product is a custom home on wheels!
One of the benefits of having a mobile home on wheels is that you can purchase it just about anywhere and pay a transport company to deliver to you. Many tiny home owners don't necessarily own a heavy-duty truck, and in some cases if the home is small, they can tow their new home with a medium sized SUV.
These small homes on wheels are mostly custom designed. This means that you can choose the exact floorplan, beds, location of bathroom and layout of kitchen. Depending on who builds your home, there may be existing floorplans to choose from in addition to a list of options. It is common for the owner to draft an ideal floorplan so the builder has an idea of what your needs are.
Although these are transportable homes, the interiors can be as basic or as elegant as you desire. Custom woodwork, granite countertops, stainless steel appliances and high ceilings are just the beginning. Of course, you have to pay for the buildout so your budget will determine your finishes.
Why are people buying these tiny houses on wheels?
There are several common reasons why someone would purchase a tiny homes on wheels…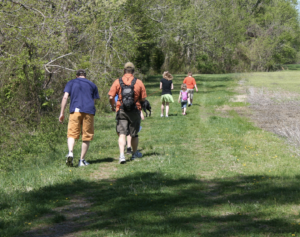 Enables a carefree life of travel
We call these people nomads. They want to travel, but yet want the comforts of a home wherever they go. It is easy to see the country when you are mobile, and able to find places that will allow you to park your home. Sometimes these tiny home travelers are retired, singles or even couples. Occasionally we hear of a family moving about the country but not as often. Financially, these travelers are receiving their retirement income, some are working remotely, some are freelancers and others don't have a plan till they get to their next destination.
If you are the type of person that doesn't like to be restricted or bounded and want to see what the country has to offer, then a tiny home might be for you. There are hundreds of national parks, monuments, forests and sights to be seen and visited. The only challenges seem to be is what vehicle will tow your home, and where you will be staying or parking. There are a handful of places that you can stay long term, but RV parks are often the most accommodating. They have utilities and amenities ready to go and if your tiny home on wheels is set up for it, you just pull up to your spot and connect.
Reduce or eliminate debt
Buying a tiny home on wheels can significantly simplify your finances. So, many buyers of a tiny house do it for financial reasons. If the average homeowner has limited savings, over $200,000 in mortgage debt, and a car payment, a slight change in income can create a financial imbalance. This common circumstance creates a high-anxiety and complex life that demands heavy work weeks and often no time to relax and enjoy the outdoors.
It is becoming more common for someone to sell just about everything, get out of debt and purchase a home which will allow them to live just about anywhere…pending their employment situation. This simple lifestyle reduces stress, reduces financial demands and enables more time to enjoy the world. Most cannot imagine a life with "no debt" and very little overhead. Some are taking the equity in their home when it is sold, purchasing a tiny home on wheels with cash, and completely getting out of debt. Their only expense is space rent and utilities. Let's run a quick scenerio: for example, your mortgage is $1500 per month, and your utilities combined average $200 per month. The total of these would come out to $20,400 per year. Let's now guess that your new utility costs would be $100 per month. The combined savings of purchasing a tiny home over a 10 year period would be $192,200! This is a huge number and can create countless financial opportunities for you and your family for many years to come.
Simplify life
This goes along with reducing debt, but for many, it goes a lot further. Some tiny home buyers lived a very fast paced life with 50-60+ hour work weeks, high stress and even a high maintenance house and yard. Some have healthproblems that have been caused by this stressful lifestyle and need a big change in order to be healthy again. This stress is often caused by the financial pressure of making the large mortgage and utility payments every month, in addition to other large bills. They felt that they are never going to get ahead and as if they are always chasing their debt and self-inflicted pain points. A portable home on wheels can eliminate a lot of the financial stress by simplifying life and reducing the need to always be working. Moving your custom tiny home into a rural or country setting allows you to slow down and focus on taking care of your health and enjoying the outdoors a little more. Some are even content with just moving into a city setting, but without the debt stress and financial anxiety.
How to move tiny homes on wheels?
As mentioned earlier, the tiny homes on wheels are being constructed on flat bed trailers. Therefore, you will be able to tow your home using a compatible vehicle that can handle the weight. The towing capacity of your vehicle will be important if you are considering moving your home often, or occasionally. Yes there are towing services, but it comes at a cost. If you are wanting the freedom to "move" anytime and anywhere, you may want to consider a vehicle that has the ability to tow heavy loads. A large, ¾ ton truck can move just about any tiny home on wheels, with a few exceptions.  If this is your preference, I recommend a diesel truck that has more torque to allow you to tow your home up steep hills for long distances. Gas vehicles are fine for towing but not ideal for heavy loads. Since some tiny homes are exceeding 30 feet in length, the more towing capacity you have the better. Heavy duty vehicles will also increase stability against winds that your home will be exposed to during transport. Heavy duty vehicles will have less transmission problems and reduce the driver's anxiety of overworking their vehicle with a heavy load. If you will be moving often, or enough to make it worth having your own vehicle, do a little homework to ensure you have the right vehicle.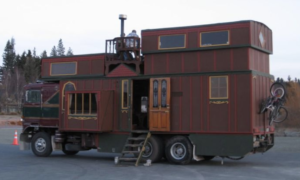 Conclusion
Purchasing a transportable home is not for everyone and is a major decision for most. In fact, it will take a lot of homework and time to understand all aspects of buying, transporting, and living in a small home. The purchasing of a homeis our single largest investment and should be taking seriously. Although tiny homes are not as expensive, it is a good idea to think it through from start to finish before making a purchase. I hope this page has helped you to better understand the pro's and con's of buying a tiny home on wheels. Any feedback is appreciated!
Thanks,