"Yurt" is not a word you hear every day. When I asked someone the other day if they knew what a yurt was, they answered, "isn't that a type of bird?" Another person asked if it was a certain smoked ham sandwich exclusively sold in Alaska. Neither are correct. That being said, a yurt, to put into modern terms, is actually a portable round tent. Given that this article is written for a website about tiny houses, it is safe to assume that this round tent is another form of a tiny house.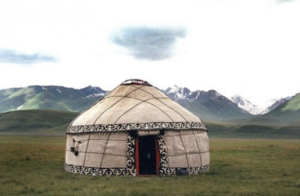 What does a Yurt come from?
The word yurt, also known as a Ger, has Turkish origin and actually means "home" in Mongolian. This was an ancient shelter used by nomads in Mongolia and other surrounding countries; such as Turkey and Siberia. Although used anciently, over 50% of Mongolians still live in Yurt today. It allows them room to live, and enough portability to move with their herds or closer to family and friends. 
Yurts provided a fairly comfortable home for these ancient nomads. For durability, these tents were typically set up on wooden platforms. They were assembled with an accordion lattice wall. The wall was set up in a big circle and held together by tension bands or straps. To secure the shape, radial rafters or poles line the "roof" area, leading to a compression ring along the top of the wall. Yurts were often covered in animal skins or felt, which helped provide a good deal of insulation and warmth during cold winter months. The circular shape of the wall and pressure from the tension bands gave the Yurt enough durability to withstand harsh winds and weather.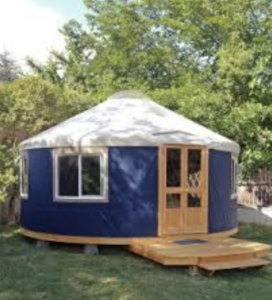 Modern Day Yurts
The Pacific Yurt is the modern application of the ancient dwelling. This is inspired by the old Mongolian yurts, but with the additional use of modern materials and technology. Nowadays, Yurts can come equipped with indoor plumbing and electricity. The installation of a typical canvas yurt takes anywhere from 1-5 days. The wooden framework will last indefinitely and the fabric coverings will last 8-10 years. Yurts that are exposed to the sun and harsh weather may last towards to the lower end of the spectrum. The purpose of a modern day Yurt is to provide a more permanent option, as opposed to the ancient Ger. Recently, Yurts have made a comeback as vacation homes or cabin substitutes in the mountains, reservations and even desert lands. They are now seen on hundreds of real estate properties, resorts, and even Airbnb!  There are even a number of resorts that take pride in their Yurts which are very spacious and tastefully furnished. Not only is this twist on a tiny home highly efficient, they are pleasing to your tree hugger friends; as these structures minimize the use of materials. Yurts are practical, viable, and eco-friendly.
Utilities for Yurts
You may have already asked how are yurts heated and cooled? How are yurts powered? These are common questions and it really depends on the set-up and application. Some yurts are completely "Off-Grid" and are no where near power lines or internet. These Yurts often have a wood burning stove/fireplace, a french drain with water being supplied nearby from a water tank and pump, and a few solar panels on the property in some occasions. These yurts are still very useful for those that want a get-away from the city life, far away from technology. Then, you have Yurts that have full utilities, some with a flushing toilet inside, shower and sink, with a propane stove to do your cooking with. Running electric to a yurt is not a big deal as long as a power pole is nearby, and conduit being ran to the inside. Some Yurts have a single electrical plug that can be used for just about anything. Additional off-grid possibilities include battery and generator systems that can provide additional electricity that is useful for larger groups or rentals.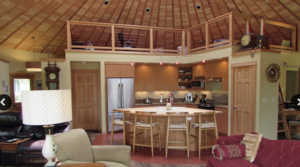 Different types of Yurts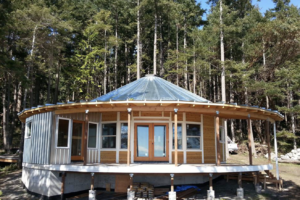 There are 2 main types of Yurts in regards to construction. The most common as discussed prior is a canvas exterior and shell, with the ability to still add windows. The second type is afull wooden Yurt which has the same shape but without the canvas. The wood yurt has the same wall sections as a canvas yurt, which can be 12-18 sections, but made of 2×4 or 2×6 construction. This provides better options for insulation that can go upto R27 in the walls, and R30 in the ceiling, in addition to increased sound proofing and less sound from the wind. A wooden yurt will withstand heavier winds and will not require "re-roofing" like a canvas yurt will in 8-10 years. The standard roof for a wooden yurt is metal which adds to the curb appeal and increases the value of the home. But, the set back of a wooden yurt is the price. They can start from about the $16,000 range with 2×8 rafters for a small yurt, and more than $50,000 for a larger, well optioned yurt with higher walls and larger rafters. One of the benefits of wooden yurts is the option to have real pine tongue and groove ceilings that make the interior look like a million dollar home!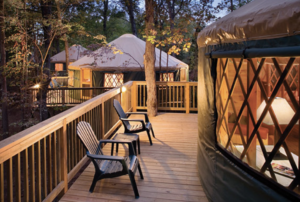 Why buy a Yurt?
As previously stated, a Yurt is often used as an alternative to a vacation home or cabin. Although they are not as popular, there are some very important things to note when considering a summer home, hunting cabin or a weekend retreat. Here are just a few things…
Let's talk money. Many families all over the world invest in cabins for a getaway up in the mountains. Log Cabins cost anywhere between $100-$275 per square foot depending on utilities, finishes, garages, porches and bedrooms. A large cabin on a good sized property can be upwards of a half million dollars in most states. To some that may be worth it, but to others, it may not be worth the money, especially if they will not be able to use the home as often as they'd like. Now for beach houses, say in Fort Lauderdale, an average vacation home has a median list price of $217 per square foot! That doesn't even come close to a Miami Beach home averaging at $512. Breaking the bank is just is not worth it to many people, nor is it necessary. Even a high-end wooden yurt with all  the possible upgrades and options is still around $100 square foot, and has a appeal for a vacation home that is hard to beat for this price range. This explains why a Yurt is becoming more well-known in just about every state to those that want a cool vacation home on a budget. 
Let's talk time. We all know how much time and labor is spent into building vacation homes and cabins. It can take 2-3 months with design and permits, and 6-12 months for the home to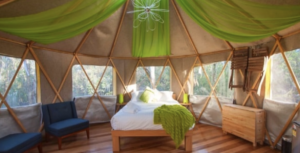 be completed. This does not include any land improvements or landscaping.  This does not include the time spent on finding the right piece of property that can fit our custom and expensive summer home. It is a big project and most people that build a cabin admit they spent more than they wanted too. Yes, this may not compare to a Yurt which can be completed assembled in a matter of weeks, depending on the foundation or platform. But still, with a project time averaging about 2 months, there is a big benefit to investing in a Yurt. Investing in a Yurt can be very hassle-free and efficient, as yurts are only a fraction of the cost of a site built home or cabin. Some properties and cities don't even require a permit for you to assemble a yurt because they are not always considered permanent. The actual assembly of a yurt can be completed in less than a week, depending on your foundation, porches and add-on's, your preference of interior finishes, rooms and built-out, appliances and of course furnishings.  If you aren't looking for anything permanent or expensive, a yurt may be your only option.
Yurt rental properties
In addition to additional housing or vacationing, yurts can be used as a real estate investment. Before you laugh, take a look at the Yurts listed on Airbnb. In California alone, they are some of the highest rated places, not to mention they are getting $100-$200 per night! This experience often called "Glamping" or a comfortable camping option, has blown up in popularity so much, that small resorts with multiple yurts are staying busy year round.
So, lets do the math and see how this looks on paper…
Investment
$30,000      16′ Canvas yurt, with some interior improvements, wooden deck, basic furniture
$20,000    small property with NO utilities except for small water tank, outhouse and wood-burning stove.
$50,000    Total investment
Monthly Income & Expenses
Rent out on AirBnb for $95 per night, for 15 nights per month = $1,425 per month.
AirBnb fee's $213
Management fee's $300
Misc $100
Net operating income of $812. Estimated annual of $9,744.
This is equivalent to a CAP rate of 19%!!
As you can see, a Yurt may be a very profitable investment. The location will have a lot to do with how many bookings you will receive and how the seasons will affect you. The benefit to offering a yurt as a rental is that most people don't expect to have utilities and are not surprised when your listing says "off-grid". This saves you a fortune in septic, water, electrical and other expenses that take away from your profit. If people are wanting to rent a home with no utilities for $100 per night, then why go thru the trouble of adding them.