The Best Tiny House Designs
Finding the best Tiny House Design
There is not a one-size-fits-all to tiny house shopping. There is such a wide variety of tiny home designs, that it can be difficult to choose which one's are the best designs. Because there are different kids of tiny houses, the first step is to decide which one will best fit your needs:
Tiny house on wheels
Site built tiny house
Yurt
Once you have decided on which type of tiny home is the best fit for you, here are a few additional important questions to help narrow things down a little.
How many people do you want to sleep?
If you want a home on wheels, do you want it to be small and mobile or do you want it to be larger, needing a large towing vehicle for transport?
Do you want gas or electric appliances?
Will you need air conditioning?
What appliances do you need?
How much storage do you need?
What is your budget?
Will you be paying cash or financing your new tiny home? 
Where will the home be located if site built? 
What utilities will be available at your property or lot? 
When you have narrowed down the larger details of your home, here are a few finer details that I have learned that separate the good home designs from the best home designs.
The exterior design
The homes that have dormers or windows, with a higher roof line seem to have a better curb appeal. These homes with higher roofs often have a very high kitchen ceiling and a loft for sleeping. Larger ones also have a small bedroom
for the adults with the loft for children or visitors. The homes that have log or even a blend of stone veneer siding will cost more to build, but have the best appeal. Country windows with shutters and even concrete board siding look great on tiny homes and offer a surprising beauty and street appeal. Homes painted with separate trim, body and shutter colors look great and give the appearance of elegance despite it's small size.
The interior design
Depending on your floor-plan and size, the interior can have countless variations in design and style. My favorite is real wood interior siding, including ship lap, with real wood on high vaulted kitchen ceilings. Bathrooms look great with stone, tile or even corrugated steel shower surrounds. Pedestal sinks look great with a small double cabinet below. Bathroom walls always look amazing with real wood, just as long as the base is water-proofed. Flooring options are also endless with real wood, tile or even durable laminate which can be a very low cost alternative to expensive flooring. Lighting must be LED with pendent lighting in the vaulted areas and recessed lighting in other rooms. Homes with stainless steel appliances look stunning with granite or butcher block countertops, and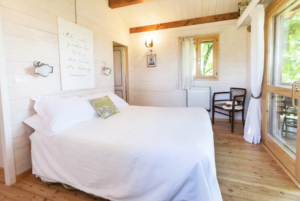 tile backsplash. Even if the kitchen sink is small, there are plenty of options that allow practical use of the sink and faucet regardless of its size. The refrigerator does not need to be big at all, and can be stainless with a high efficiency rating in order to help reduce your electrical bills.
Floorplans
As mentioned earlier, there are endless options for floor-plans. I enjoy designing custom floor-plans for tiny homes and customizing small areas for an individuals needs. My favorite is a small site-built tiny house with 2 bedrooms and 1 bath. The floorplan consists of 12 foot high ceilings in the kitchen area with lower ceilings in the bedrooms. This allows plenty of loft space for multiple beds or even storage. An important part of design is having a sound understanding of how much stuff you need to store. A 180 sq' tiny home with a single bedroom will not have much storage room, but will be small enough for most trucks and medium SUV's to pull anywhere. But, for multiple occupants and more storage space, the floorplan will need a closet or additional loft space for clothes, supplies, equipment and even food storage. In my opinion, the best tiny home designs have more room than the occupants think they need. Even if you are a single and retired lady, having a little more storage space will more than likely end up being a smart decision. Families should consider the larger sizes (30'+ for tiny homes on wheels) of homes in order to allow the kids a little room to themselves…if possible. Couples should consider a home that can be scaled along with their growing family and the future needs of a baby and small children. Families with children should consider the risks of open stairs/steps that ascend to the loft.
Resell value
This should be an important factor in trying to find the best home design for your needs. If your plans happen to not work out, and you need to sell your tiny house down the road, you want to make money or at least lose as little as possible. Here are a few important details that you should think about prior to purchasing a tiny home.
Is my floorplan practical and useful?
Is my exterior attractive and classy?
Are my interior finishes elegant but not overbearing?
Does the size of my home have demand in my home market?
Am I buying my home at a fair market price?
If my home is on property, will my neighbors/surroundings deter potential buyers?
What are the comps in tiny home sales in my area?
Conclusion
The best home designs are those that look amazing on the outside, practical and beautiful on the inside and have the appliances and technology that people want. Strange floorplans, finishes and lack of comforts not only have poor resell, but often make it difficult to reside in long term. Do the research needed to identify what your needs are and try to picture where you will store your possessions, spend leisure time, and how you will use the space for years to come. This will lead to you making the most practical buying decision and buying the best designed house within your budget.